Founded in 1970, Candela Lasers is a leader in the field of aesthetic laser technology.  Offering a wide array of cosmetic medical devices, Candela is focused on developing safe laser treatment alternatives to more invasive options, such as electrolysis and surgical procedures.  Based in Wayland, Massachusetts, Candela is recognized as a global competitor and has revolutionized the industry's perception of laser treatment by emphasizing the importance of patient comfort.  This can be seen in Candela's Dynamic Cooling Device, or DCD, that provides skin protection during laser procedures.  Additionally, Candela is behind the Serenity device which utilizes Pneumatic Skin Flattening technology to reduce pain and patient discomfort during light laser-based treatments.
In 2009, Candela successfully increased its market presence through a merger with Israel-based Syneron, a radio frequency and laser-device maker.  Operating as a wholly-owned subsidiary of Syneron, Candela maintains its strong market presence while benefiting from enhanced size and resources, including comprehensive customer support, increased financing options, marketing support, and ever-increasing patient demand.
With a steadily-increasing portfolio, Candela markets medical lasers for a variety of cosmetic applications that are used by medical practitioners and aestheticians around the world.  Known for providing equipment that is safe and reliable, some of Candela's most prominent laser-based treatment devices include:
AlexLAZR – utilized for tattoo and pigment lesion removal
C-beam – pulsed dye laser treatment for psoriasis, surgical scars, warts, and other vascular applications
Ellipse I2PL – intense light pulsed system offering skin rejuvenation as well as facial redness/pigmentation removal; ideal for areas affected by sun damage, age spots, rosacea, and spider veins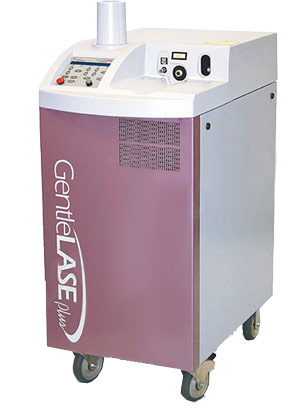 GentleLASE Family – providing laser hair removal/reduction for all skin types, vascular lesion treatment, and wrinkle reduction as well as leg vein treatment
GentleYAG Family – general hair reduction/removal, pseudofolliculitis barbae (PFB or "beard bumps") care, leg and facial vein treatment, and skin tightening
Smoothbeam – combination of laser heating and cooling technology to achieve treatment of acne vulgaris, acne scars, wrinkles, and sebaceous hyperplasia
Vbeam Perfecta – pulsed dye laser treatment of vascular lesions, birthmarks, facial redness (rosacea), leg and facial veins, scars, warts, and stretch marks as well as skin rejuvenation
Candela has prided itself on providing safe laser-based aesthetic medical devices and treatment options to the world for nearly 50 years and has successfully created a brand that is recognized globally as a leader in the field.  Through Candela's emphasis on safety, patient comfort, and innovation, its name is synonymous with confidence. Aftermarket sales of Candela Laser equipment remains strong for a strong array of medical and aesthetic treatments.