How elōs Technology Works
elōs Technology was developed and patented by Syneron and combines bi-polar radiofrequency technology with laser and pulsed light energies for safe and effective medical laser treatments. While the optical energy is absorbed by the epidermal melanin – effectively preheating the target tissue – the radiofrequency energy is able to reach the deeper, preheated dermal layers of the skin.  This ultimately reduces the risk of epidermal damage seen in traditional optical energy treatments given that the targeted preheating negates the recurring problems of too little absorption (less treatment than desired) or too much absorption (undesired side effects to non-targeted areas).  Instead, the controlled combination of optical and radiofrequency energies creates a thermal wound within the targeted area that results in increased thickness of the epidermis and more compact collagen bundles throughout.  It is, in effect, an ideal combination in the world of aesthetic lasers and the addition of integrated contact cooling ensures patient comfort and increased control regarding target areas.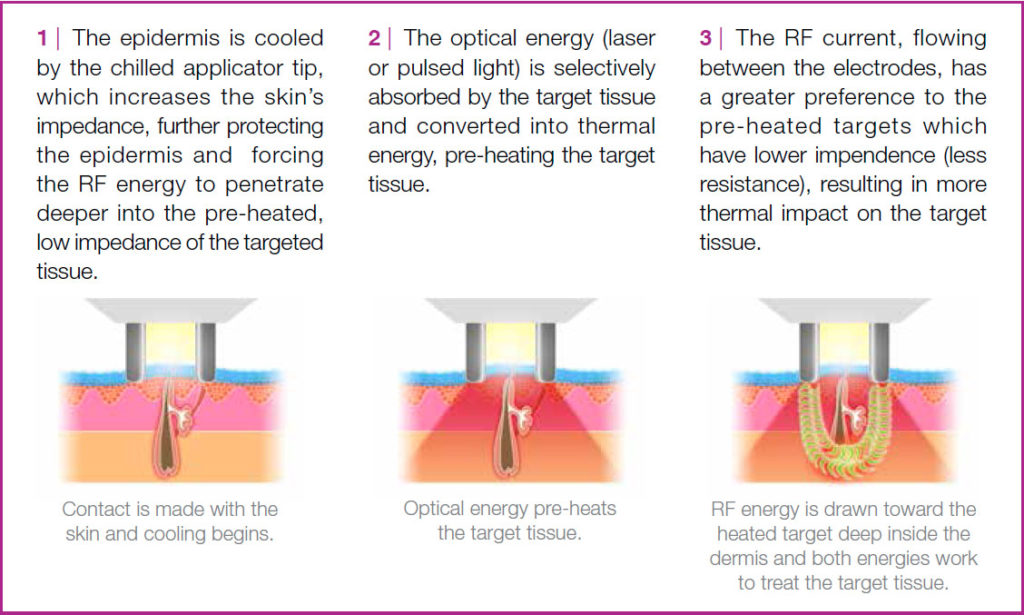 Increasing the safety profile of aesthetic lasers, elōs technology can be found in a variety of equipment centered around Syneron lasers, including those listed below.  Utilized for a variety of treatments, the versatility and usefulness of the elōs technology makes it an entirely relevant market addition.  Particularly with the multi-platform functionality and Active Dermal Monitoring (ADM) that provides instant feedback and ensures physical skin contact, these aesthetic lasers are sure to prove their worth in the longrun.
Syneron Lasers With elōs Technology
Elos Plus – Ten different applicators increase the use and effectiveness of this medical laser system.  Treatment options include: acne; acne scars; PFB; hair removal for all skin types; diode hair removal; facial and spider veins; fractional resurfacing; pigmented lesions; vascular lesions; and wrinkles.
eMatrix – A complete sublative rejuvenation system, eMatrix is a system that does not utilize strong lasers but sees safe and gentle successes with facial wrinkles, acne scars, uneven skin tone, and skin laxity for various patients with differeing skin tpyes.
eMax – The, eMax is a comprehensive multiplatform system that targets hair removal, acne, pigmented lesions, wrinkles, skin laxity, leg veins and skin rejuvenation.  Longer wavelengths in this medical laser allows for greater variety of patient successes and increased comfort in all patients. The eMax is regarded as a true workhorse for aesthetic treatments. The Syneron Galaxy laser system served as the predecessor to the popular eMax system.
eLight – A complete facial treatment system, eLight targets four specific areas: skin rejuvenation, hair removal, wrinkle treatment, and acne treatment. The Aurora laser system was the predecessor to the eLight and remains an affordable cosmetic laser option for aftermarket buyers.
eLaser – Featuring ultra-fast and effective treatment capabilities, the eLaser has five detachable, optional applicators to complete alternating functions.  Function capabilities include: hair removal, wrinkle reduction/treatment, and leg vein/vascular lesion removal.  This portable device offers no patient downtime and increased patient comfort. The Syneron Comet was the first production model for this laser platform.
What Makes Syneron's elōs technology so appealing?
Offering superior outcomes with an incomparable safety record, Syneron elōs technology models continuously surpass competitor limitations by staying at the forefromt of the aesthetic medical laser field. Offering effective thermal profiles, deeper tissue penetration, decreased risk to the epidermis, and targeted treatments with lower optical absorption, Syneron lasers elōs technology is unsurpassed when it comes to safety and efficiency.
An increasing demand for aesthetic procedures has led to increased competition in the medical laser field.  Superior equipment is essential to meeting that demand while simultaneously factoring in patient comfort and satisfaction.Syneron laser equipment featuring elōs technology not only avoids the undesired side effects and unpredictable equipment problems plaguing the industry, but also results in 75% skin improvement over competitors.
Read Syneron's synopsis for more comprehensive information on elōs technology.