Alma Lasers, Ltd., formerly known as MSQ Ltd., specializes in the design, development, manufacturing, and marketing of medical laser, light-based, radio frequency, and ultrasound products in the medical and aesthetic fields.  Founded in 1980, Alma Lasers is based in Caesarea, Israel and operates in more than 60 countries and cities spread throughout three continents.   Alma Lasers is particularly known for its tendency to revolutionize existing methods of aesthetic treatment to provide safer, more exacting, and consumer-friendly treatments that are both cost effective and high performance.
Alma Pixel
Alma Lasers presently markets six (largely modular) machines targeting aesthetic medical treatments.  Perhaps the most well-known of these is the Pixel CO2 System.  Based on proprietary skin rejuvenation technology that is based on fractional resurfacing technology, the Pixel CO2 provides unparalleled skin resurfacing as well as scar removal.  Additionally, Alma Lasers offers Pixel handpieces that work with third party systems as well as with their own Harmony equipment.
Alma Harmony
Aside from being compatible with the Pixel handpiece, the Alma Harmony Laser is a multi-application platform that can be utilized for a variety of treatments.  Treatment options with Harmony include: hair removal, vascular and pigmented lesions, skin rejuvenation, wrinkle treatment, and overall skin tightening.  Initially launched in 2004, Harmony is Alma Laser's flagship product line and is known for being both versatile and predictable – two traits that any aesthetic practice should look for in its equipment.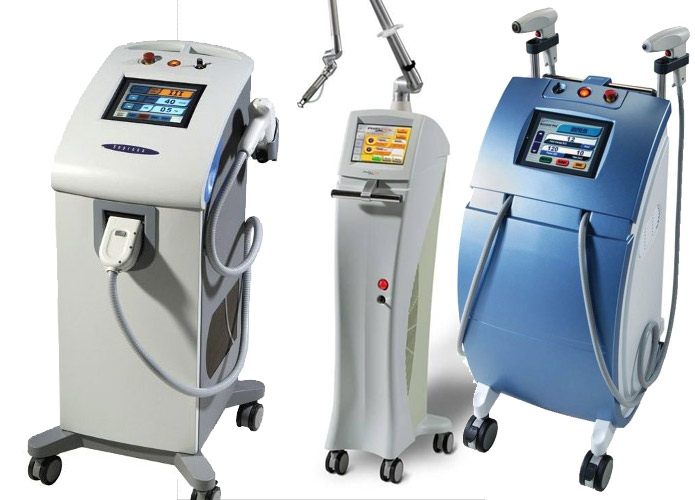 Alma Soprano
Similarly popular, the Soprano system is a third generation diode laser system that offers painfree hair removal that is safe and effective on all skin types.  Focusing on patient and practitioner safety and comfort, the Soprano ICE in particular is a dream machine, offering multiple cooling mechanisms, smoother results, and a light, easy-to-use applicator.
Alma Accent
Accent, on the other hand, is a 2nd generation radio-frequency based aesthetic treatment system that targets wrinkles, rhytids, and cellulite through body sculpting/smoothing, and skin tightening.  Combining two proprietary radio-frequency modes – BiPolar and UniPolar – the Accent offers non-invasive treatment through separate handpieces that heat at different tissue depths, known as dual-layer thermotherapy.  The Accent is safe and easy to use with consistent, reliable results.
Other Alma Aesthetic Laser Systems
Furthering Alma Laser's investment in cosmetic skin care, the Impact series focuses on supplementing the skin with an intense delivery of cosmetic ingredients to visibly erase signs of aging.  Often used alongside peels, facials, or microdermabrasion treatments, the Impact utilizes low frequencies to increase absorption of anti-aging formulas and cosmetics, which on their own will only absorb about 10%.
Finally, Alma Laser's vShape fights wrinkles and provides skin resurfacing and body sculpting capabilities.  Both cost-effective and versatile, the vShape is a focused radio-frequency system that allows the practitioner to customize the depth of thermal penetration for maximum face and body results.  Patients are not one-size-fits-all, so the equipment used to treat them should not be built that way; vShape accounts for patient variations and allows specific, targeted treatment to garner the results they want.
In 2013, Alma Lasers was acquired by Shanghai Fosun Pharma (Group) Ltd. for $240 million.  Since that time, Alma Lasers has continued to lead in both medical and aesthetic equipment and remains at the forefront of the medical technology systems field. Alma aesthetic lasers continue to hold their value and are a much desire product in aftermarket medical systems.